Singer 301 Accessories from the Original Parts Book !
Also includes additional Special Attachments, Optional Accessories and other 301 items of interest!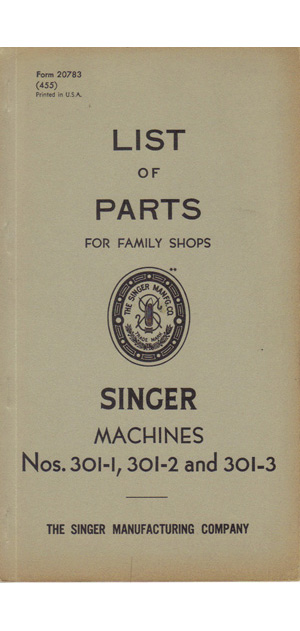 The Singer 301-1, 301-2 and 301-3 only designates different classes of the Singer 301.
Without Carrying Case, With Carrying Case, Sewing Schools and Cutting Tables Sets.
Singer List of Parts, Form 20783 (455), April 1955
There was an early "List of Parts" for the Machine 301-1, Form 20618 (552), May 1952
Special Attachments not included in the April 1955 List of Parts
160751 Embroidery Attachment complete one thread

160752 Embroidery Attachment complete two thread

160852 Hemstitching and Picoting Attachment complete with throat plate

160756 Singercraft Fagoter complete, 1/2 in. gauge

160758 Tubular Trimming Attachment complete
Never seen any of these attachments and probably why they are not listed in the 1955 List of Parts.
Standard Accessories that came with a new Singer 301 or 301A Sewing Machine:
(This is for the Singer 301-2, for use with Carrying Case Set #269)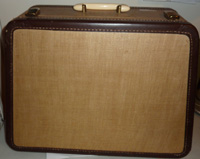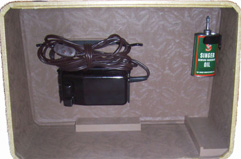 Carrying Case, #E24984: comes with a light brown grass cloth covered trapezoid case with brown leather trim and a beige handle. Some cases have the foot controller located in different area, some cases have an oil can and some cases do not. There are some cases that have a partition located on the right side.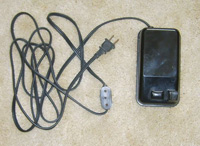 Wiring Harness Complete with 3 pin terminal, #196778: Included with carrying case, has #194584 controller.

Wiring Harness Complete, #196222: Included without carrying case, cabinet use, has #194828 controller.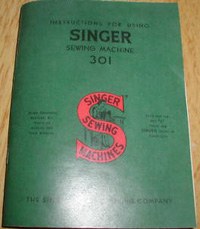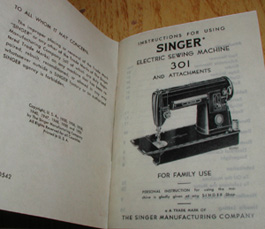 Manual for Singer 301: In 1951, the start of the Singer 301, this was the 1st Instructions Manual and was issued in 1951, (1051) October 1951, 60 pages.
"Super-Rare - Highly Collectable"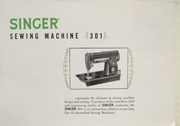 Manual for Singer 301A: In 1953, the start of the Singer 301A, a new Instruction Manual was issued in 1952-1955, 64 pages. (Revised Dates)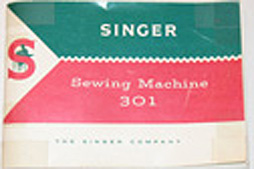 Manual for Singer 301A: In 1956, the start of "NB" serial numbers, a new Black or Colored cover Instruction manual was issued in 1956-1958, 70 pages. (Revised Dates)
(When a Singer 301 or 301A was sold they were issued the most recent Instruction Manual)
To You...as the Owner of a new Singer Sewing Machine!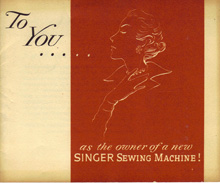 Along with the Green Cover Instruction Manual you also received this pamphlet: To You...as the Owner of a new Singer Sewing Machine! As a Singer Owner You are assured complete service and a complete course in home sewing. Inside the pamphlet it shows the lessons that you will receive.



The OEM bobbin case will have SIMANCO USA 45750 stamped. The number 45751 is the part number for the complete assembly and is not marked on the bobbin case. The picture with the white box marked 45751 is an aftermarket part, not original. It may or may not be stamped 45751, again not original. The picture on the right is the original bobbin case and is stamped with SIMANCO USA 45750. For originality this is the one you want. The Singer 221 Featherweight uses the exact same bobbin case stamped SIMANCO USA 45750.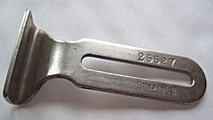 Complete Attachment Set #160623 & Regular Attachments: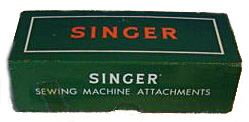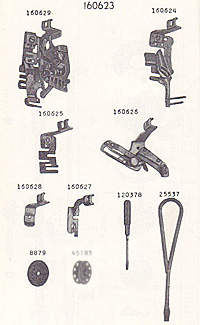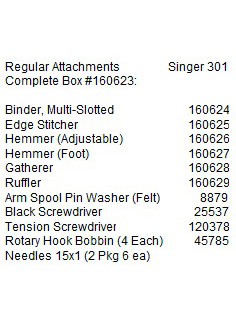 Included in the 160623 Attachment Set: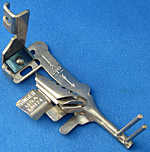 Multiple Slotted Binder, Singer #160624: applies unfolded bias binding and folded commercial binding to the seams or edges, also does piping and binding in one operation.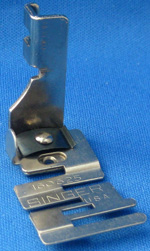 Edge Stitcher, Singer #160625: sews lace together with a very narrow seam, also sews piping, folded bias tape, or military braid. Stitches wide hems, makes French seams, sews tucks.

Foot Hemmer, Simanco#160627: the foot hemmer may be used for hemming edge of material, making hemmed or felled seams and for hemming and sewing on lace in one operation.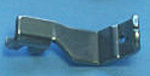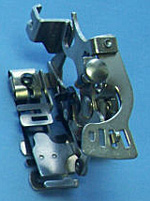 Ruffler, Singer #160629: makes ruffles, sews ruffles to project in one operation, pipes ruffles, and does plaiting (pleating) of all kinds.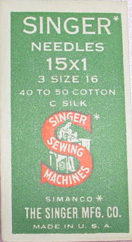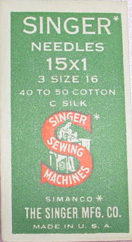 Accessories: Sold Separately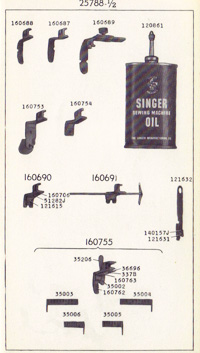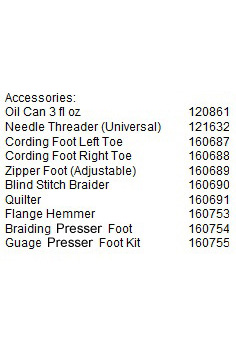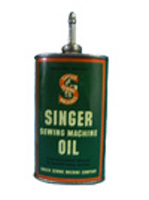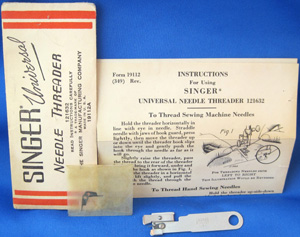 Singer Needle Threader, #121632: Easy way to thread your 301 sewing machine.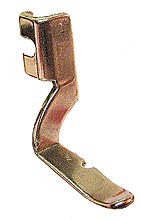 Cording Feet Set, #160935: has both #160687 and 160688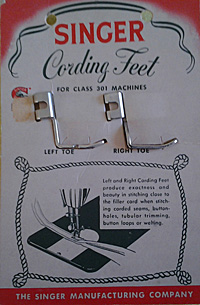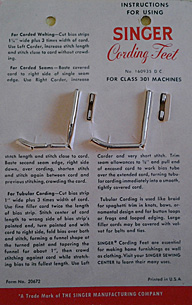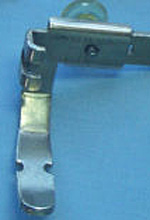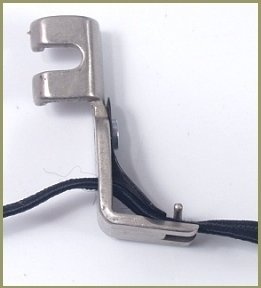 Blind Stitch Braider, #160690: applies braid to fabric, upside-down, guiding it into place.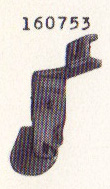 Singer 301 Flange Hemmer Foot, 1/16", #160753: for making a 1/16" hem and is used for simulating a rolled hem on fine materials such as georgette, chiffon and silk making it unnecessary to paper against the feed dog. Discontinued in 1955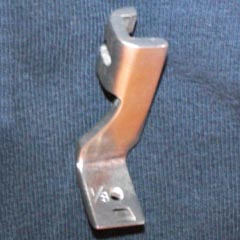 Singer 301 Braiding Presser Foot, 1/8", #160754: for braiding, for art work, for braid 1/16" to 3/16" wide. Pass the braid through the hole on the braider in front of the needle and follow the pattern to be braided. This slant shank braiding foot fits in place of the standard presser foot for the 301.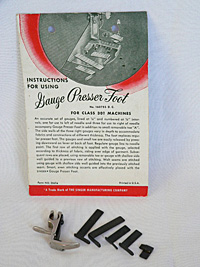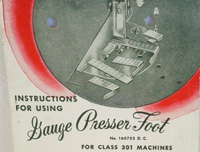 Gauge Presser Foot For Class 301 Machines, Singer #160755: This foot replaces the regular presser foot. One gauge for left side of needle, three gauges for right side of needle and a small removable toe. Original Packet with Printed Instructions.
Special Attachments: Sold Separately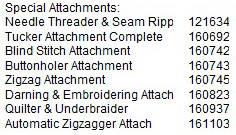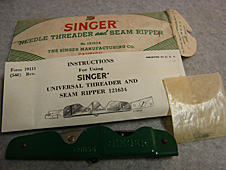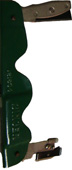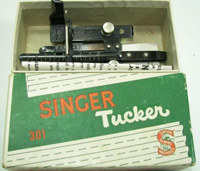 Singer Tucker Class 301 Complete, Singer #160692: tucks adds smartness and interest to dresses, blouses, neckwear, children cloths, and lingerie. Listed in Parts Book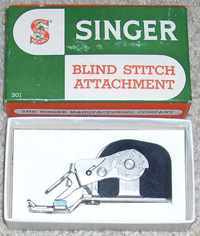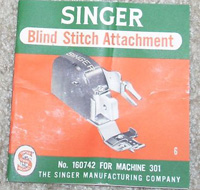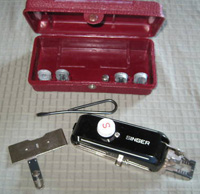 Singer Buttonholer Attachment Complete for Machine 301, Singer #160743:

Listed in Parts Book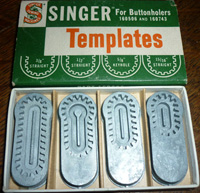 4 Extra Templates #160668 for Machine 301 Buttonholer, Singer #160743,: 3/8", 1/2", 15/16" Straight and 5/8" Keyhole.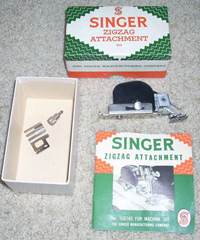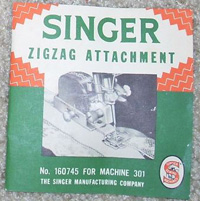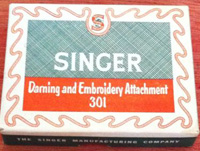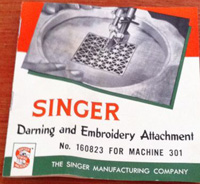 Singer Quilter and Underbraider For Class 301 Machines, Singer #160937: This includes a complete Quilter #160691 that includes the Presser Foot and Presser Foot Braid Guide. It also includes the Underbraider Singer #160927. Original Packet.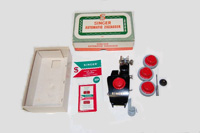 Automatic Zigzagger, Singer 301, Simanco #161103: comes with 4 cams for zigzag stitch, blind stitch, domino stitch, and arrowhead stitch. Additional cam can be purchased for more embroidery stitches. Listed in Parts Book as #160986 / For the 301 you can have either Part Numbers : 161103 or 160986.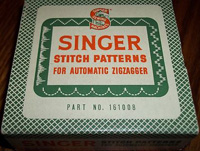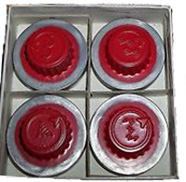 4 Extra Stitch Patterns, Singer #161008: for Singer 301 Zigzagger, Simanco #161103 (Listed Above): Scallops #161004, Multiple Stitch #161005, Walls of Troy #161006 and Icicle #161007.
Optional Accessories: Sold Separately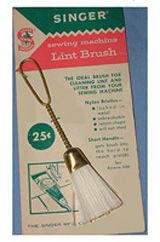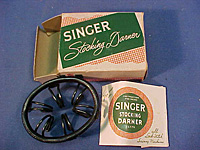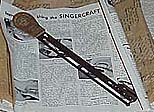 Singercraft Guide, #121079: The Singer craft guide is a long metal ruler with a slit down the middle. All you do is wind material around it and sew down the gap. ( The box itself is a Singercraft Guide Kit #121079 and the Guide itself is marked #120987) Discontinued in 1951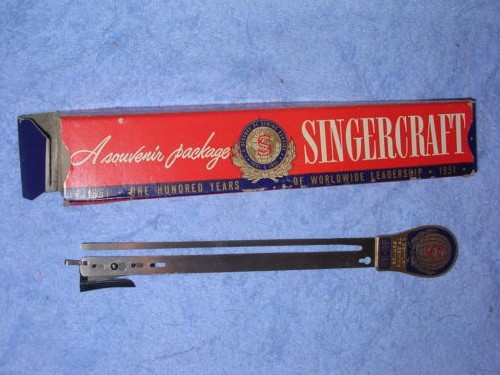 Centennial Singercraft Guide, #121079: Only issued during the Singer Centennial Year 1951. The guide itself is not marked with any number. It was a Special Edition of the Singercraft Guides and is the only #2 guide to have the design presented upside down as you sew. It was also the very last Singercraft guide made. Discontinued in 1951
"Super-Rare - Highly Collectable"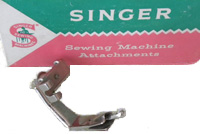 Singer Slant Needle, Hemmer Foot, Singer #161616: For all slant shank machines. Fits in place of standard foot to form and stitch perfectly turned hems without tacking or ironing. Form a double 1/8" fold at the edge of the fabric and crease it for about 2". Place the creased hem under the foot and stitch through the fold. Hold the thread ends at the back and the single fold in front of the hemmer and lift the fold into the hemmer scroll. While sewing, guide the fabric edge into the mouth of the scroll with the right hand.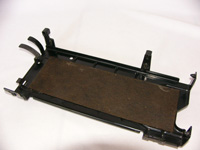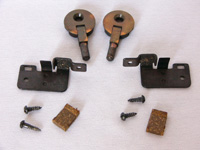 Other Singer 301 Items of Interest: Sold Separately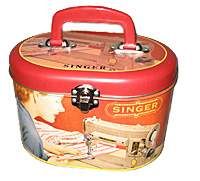 Vintage Design Singer Model 301 Sewing Tin: made by Tin Box Company to store accessories, bobbins, thread spools, anything you want. Nice original picture of a 1952 advertisement.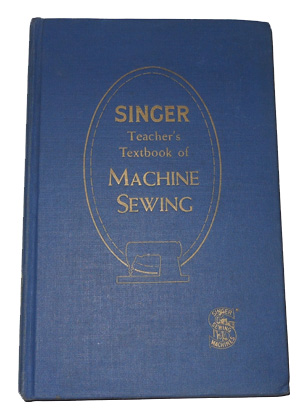 Singer Teacher's Textbook of Machine Sewing: This nice to have book shows how to use all your Singer sewing machine attachments. It also covers most of the vintage sewing machines and especially the Singer 301. Threading diagrams, cleaning and oiling. This book is just filled with information. Copyright 1953. The outline of a Singer Model 301 is on the front cover. Nice.
Please submit information about your Singer 301 or 301A
Thank you for visiting the Singer 301 website!